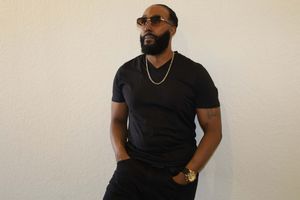 L-U-V 
L-U-V is a talented songwriter and musical artist hailing from Birmingham, Alabama. From a young age, he was drawn to the powerful lyrics and storytelling of artists like 2pac, Biggie, Nas, Scarface, and many others, often reciting their songs word for word. 
As he grew older, L-U-V began to channel his passion for music into his performances, taking the stage at talent shows, and rap battles, and even auditioning for record label agencies. His genre of choice is hip-hop rap, and he has a strong desire to create music that not only grabs people's attention but also touches their souls with his unique point of view. 
L-U-V has worked hard to perfect his craft, and it shows in his performances. Whether he's performing in front of a small crowd at a local venue or on a larger stage, he always manages to captivate his audience with his energy and passion. 
In recent years, L-U-V has been busy collaborating with other talented artists such as NFA BO, Mica Franco, and many others. He is currently working on several new projects, and fans can expect to hear some exciting new materials from him in the near future. 
Despite the challenges he has faced in his career, L-U-V remains dedicated to his art and to making a meaningful impact through his music. He is constantly pushing himself to be a better artist, and his drive and determination are evident in everything he does. 
As he continues to make a name for himself in the music industry, L-U-V is sure to become a force to be reckoned with. His talent, passion, and dedication to his craft make him a standout artist, and it's clear that he has a bright future ahead of him